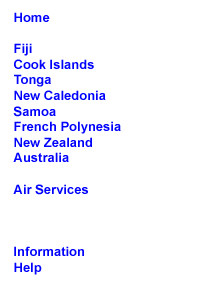 The South Pacific or Oceania as it is sometimes referred to, is a vast, arbitrarily defined expanse of the world where the Pacific Ocean – rather than land borders – connects the nations. It is home to glistening white beaches, coconut palms swaying in the breeze, beautiful coral reefs, and rugged volcanic islands rising out of the blue ocean. Its diverse nations have some of the world's most international cities, and some of its most remote villages.
The South Pacific islands incorporates Polynesia to the east, Melanesia to the west and Micronesia to the north, as well as Australia and New Zealand.
From tropical shores to icy peaks, the South Pacific Islands, has a huge range of destinations to cater for all tastes. Some areas are amongst the fastest growing destinations in the world - New Zealand and Australia are gaining big recognition worldwide - giving the independent traveller a great range of activities from adventure tours, eco-tours, general, small group tours, independent travel and event tours.
Travelink International is an Internet based integrated interactive online online direct access information reservation distribution system allowing you to make individual reservations accommodation, plus rental cars, rail, airlines, etc within New Zealand, Australia or South Pacific Islands.