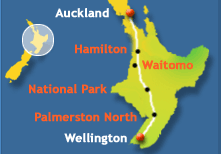 The Northern Explorer train (formally the Overlander) is a scenic rail journey through the heart of the North Island travelling between Auckland, New Zealand's largest city - home of the Sky Tower, through the central heartland of the North Island to Wellington - New Zealand's arts and culture capital.

Along the way, you see fantastic views of New Zealand farmland and the rugged native bush landscape before ascending up the world famous Raurimu Spiral to the volcanic plateau passing the majestic volcanoes of Mt Tongariro, Mt Ngauruhoe and Mt Ruapehu - the home of the North Island Skifields - Whakapapa and Turoa, descending down through stunning river gorges to the farming landscape of the lower North Island and rocky sea scapes to Wellington – all from large panoramic windows or open air viewing carriage allowing you the best possible views.

Along the way you pass the Central North Island ski towns of National Park and Ohakune, offering world class skiing and snowboarding on Whakapapa and Turoa skifields, popular with young and old alike.

The Northern Explorer carriages have advanced air bag suspension system for quieter and smoother travel, un-tinted, non-reflective, panoramic side and roof windows to capture the dramatic coastal and mountain views of the magnificent North Island, GPS triggered journey commentary in five languages at your seat via headphones, plus information displays and overhead HD video and are centrally heated/air conditioned for passenger comfort.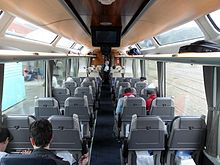 All carriages on the Northern Explorer train are centrally heated/air conditioned, with either '2 Seat-Aisle-2 Seat' forward facing seats with head rests or 'Table Group' (4 people around a table) seating allowing you to experience the amazing views of the magnificent North Island, through large panoramic windows, while enjoying the company of other passengers on-board.

The Northern Explorer train has a Café Carriage, offering a range of alcoholic and non-alcoholic drinks, snacks and light meals.

The Northern Explorer train is a reserved seating 'One Class' non-smoking service.

You can use your RailBus travel pass to travel on The Northern Explorer train, between any of the 'Point to Point' travel destinations between Auckland and Wellington. By adding a Cook Strait ferry crossing between the North to South Islands, you can continue journey south to Kaikoura - home of whale watching and dolphin swimming and Christchurch - the gateway to the South Island.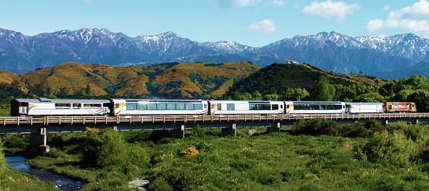 The Northern Explorer train operates -

* Auckland to Wellington - Monday, Thursday and Saturday

* Wellington to Auckland - Tuesday, Friday and Sunday

The Northern Explorer train does not operate on Christmas Day - 25 December.

For the Northern Explorer train timetable.

Travelling on the Northern Explorer train is a genuine kiwi rail experience through the North Island's unique scenic beauty.

There are connecting bus and coach services from Hamilton to Rotorua and Tauranga as well as bus and coach services from Auckland and Wellington to other North Island destinations

From Auckland, you can explore the beautiful Bay of Islands and the thermal wonderland of Rotorua, by choosing from a range of suggested independent bus touring travel packages ranging from 1 to 5 days in duration.

From Wellington, you can travel to or from Kaikoura and/or Christchurch on the Coastal Connection train and ferry service.

There is no overnight passenger train/rail service between Auckland, Hamilton, National Park, Ohakune, Palmerston North and Wellington.