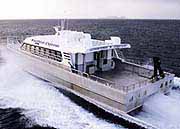 Stewart Island Ferry is a scheduled passenger and small freight ferry service between Bluff in the South Island to the village of Oban in Stewart Island operating a fleet of 23m catamarans seating 100 people 1-hour travelling time.

Crossing time is 1 Hour each way.

All sailings are daily except Christmas Day. Licensed. Group charters, hunting parties welcome.

Connecting bus from Invercargill and Bluff is available. Bus departs In 1 Hour (60 minutes) prior to each sailing time from Invercargill.

Ferry Departure Locations

- Bluff (Invercargill) - Bluff Visitors Terminal - Old Wharf
- Oban (Stewart Island) - The Wharf - Half Moon Bay, Oban

Invercargill to Bluff Bus Service Pick Up/Drop Off locations

- Invercargill Visitor Information Centre/I-Site - Gala Street
- Tuatara Backpackers Lodge
- Victoria Railway Hotel
- Invercargill Airport

Fares, Timetable and Reservations -

Click for ferry fares, timetable and reservations from Invercargill/Bluff/Te Anau/Queenstown and from Stewart Island (Oban).

Cancellations and Refunds

Full refund is given if reservation is cancelled up to 24 hour of departure time.
No Refunds will be given if reservation is cancelled within 24 hours of departure time.

Prices are for guidance only include local tax and are subject to confirmation.

Luggage Requirements

Personal baggage is carried free on the ferries - maximum of two bags per person (one stowed and one small carry-on) per person. For visitors to Stewart Island wishing to bring additional baggage, the transport of these items is by prior arrangement. This service is not available on all ferry departures, due to the size of the vessel and the limited cargo space available.

Additional Baggage Item (Rates in NZ$):

- Bicycle $8.00 per bike, each way
- Single Kayak $25.00 each way
- Double Kayak $30.00 each way
- Dinghy $35.00 each way
- Small motorbike $30.00 each way

Vehicle Parking at Bluff

Semi-secure vehicle parking is available in Bluff, adjacent to the Bluff Ferry Terminal for self-driving visitors taking the ferry to Stewart Island. Costs are -

- up to 24 Hours - NZ$10.00
- up to 50 Hours - NZ$19.00
- up to 74 Hours - NZ$25.00
- up to 98 Hours - NZ$30.00
- up to 124 Hours - NZ$35.00
- Thereafter NZ$5.00 per 24 Hours or part there of.

A parking is based on a '24 Hour' day.

Parking can not be pre-booked and is subject to availability. Parking operates on an 'Airport-Style' of parking, as you collect your parking ticket on entry and pay when you leave.

Storage is available for cars, boat trailers, coaches, campervans, motorcycles and bicycles. Reservations are not required. Storage would be at owner's risk.