Located 240 kms north of Auckland is the Bay of Islands is an area of 26 islands that scatters the bay.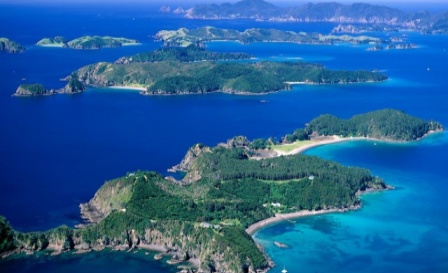 Known for being the winterless north, the Bay of Islands is known for the world famous Hole in the Rock, big game fishing, diving, sailing to name a few of the many attractions and activities that are available in the region.
The bay itself is an irregular 16 km-wide inlet in the north-eastern coast of the island.

A natural harbour, it has several arms which extend into the land, notably Waikare Inlet in the south and Kerikeri and Te Puna (Mangonui) inlets in the north-west.

The small town of Russell is located at the end of a short peninsula that extends into the bay from the southeast.

Several islands lie to the north of this peninsula, notably Urupukapuka Island to the east and Moturoa Island to the north.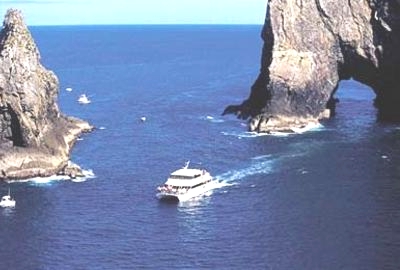 The Purerua Peninsula extends to the west of the bay, north of Te Puna Inlet, and Cape Brett Peninsula extends 10 km into the Pacific Ocean at the eastern end of the bay.

The Bay of Islands was the first centre of early European settlement in New Zealand, with Russell being the first capital of New Zealand.
The main tourist town is Paihia, with other towns of
and Russell located close by.
Located in the Bay of Islands is Waitangi known for the signing of the controversial Treaty of Waitangi between the Maori people and the British Crown in 1840.

There are various coach and bus operators providing regular daily services to the Bay of Islands region from Auckland. Air New Zealand Link provides regular daily air services to Kerikeri from Auckland.

There are no passenger train or rail services to or from the Bay of Islands